I would like to thank Simon Pulse and Akemi Dawn Bowman for sending me this ARC via NetGalley in exchange for my honest review.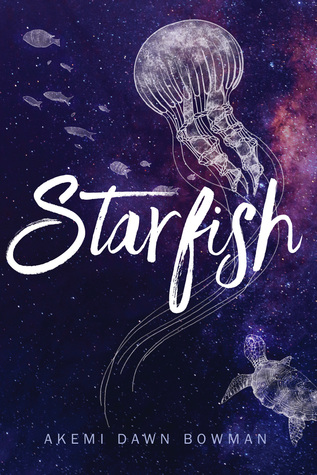 Kiko Himura has always had a hard time saying exactly what she's thinking. With a mother who makes her feel unremarkable and a half-Japanese heritage she doesn't quite understand, Kiko prefers to keep her head down, certain that once she makes it into her dream art school, Prism, her real life will begin.

But then Kiko doesn't get into Prism, at the same time her abusive uncle moves back in with her family. So when she receives an invitation from her childhood friend to leave her small town and tour art schools on the west coast, Kiko jumps at the opportunity in spite of the anxieties and fears that attempt to hold her back. And now that she is finally free to be her own person outside the constricting walls of her home life, Kiko learns life-changing truths about herself, her past, and how to be brave.
Occasionally I stumble across a book that I will remember forever because it was that bloody good. Starfish was perfect in every single way. The writing was superb, Akemi was able to make me feel so many different emotions at once. Anger, sadness and at times happiness. Needless to say, this book is crazy important and I think everyone should read it.
Kiko is an important character as she represents millions of young people that struggle with their identity. She is half Japanese, from her father's side and half American. Her mother, to put it ever so bluntly, is a complete asshole. Kiko's mother constantly puts her down and isn't shy about telling her daughter that she would be more beautiful if she had blonde hair, a straight nose and basically looked "less Asian". Her mother, who should love her daughter unconditionally, is a racist. It broke my heart. I can't begin to imagine the sadness that Kiko has in her heart, feeling so out of place in the world. Not only must she deal with this from fellow peers but also from her own mother.
Kiko deals with her social anxiety throughout this story. She wants to shine, to be independent from all the worries and hate but she is at constant war with herself. Her escapism is through art – it's her passion in life and makes her happy. I found I was able to relate to Kiko as I also suffer from anxiety. Her struggle showed me and can show many other sufferers that you are not alone. I liked how Akemi did not write a character to "save" Kiko as she does not need saving.
The romance in Starfish made my heart flutter. I wanted it so much for Kiko because she deserved so much happiness. I won't say too much as I really don't want to spoil it!!
The pace of the book was steady and was consistent throughout. At no point did the story feel rushed. Akemi developed the world beautifully with her words and created a timeless story for those who alsostruggle, like Kiko did, and help them to find comfort and courage through reading Starfish.


There are trigger warnings of sexual abuse in this book, so please be aware.
5/5