I would like to thank Feiwel & Friends and Alexandra Christo for sending me this ARC via NetGalley in exchange for my honest review.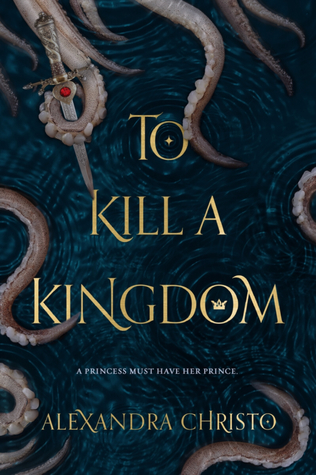 Princess Lira is siren royalty and the most lethal of them all. With the hearts of seventeen princes in her collection, she is revered across the sea. Until a twist of fate forces her to kill one of her own. To punish her daughter, the Sea Queen transforms Lira into the one thing they loathe most—a human. Robbed of her song, Lira has until the winter solstice to deliver Prince Elian's heart to the Sea Queen or remain a human forever.

The ocean is the only place Prince Elian calls home, even though he is heir to the most powerful kingdom in the world. Hunting sirens is more than an unsavory hobby—it's his calling. When he rescues a drowning woman in the ocean, she's more than what she appears. She promises to help him find the key to destroying all of sirenkind for good—But can he trust her? And just how many deals will Elian have to barter to eliminate mankind's greatest enemy?
THIS BOOK WAS AMAZING.
I struggled to put this book down because it was that darn good. If you love The Little Mermaid and fantasy fiction then this book is definitely for you. I cannot stress how much you will fall in love with this unique retelling of The Little Mermaid.
Lira, our main character was my absolute favourite. She's an interesting character who I instantly liked. Lira, who is Siren royalty, kills and takes the hearts from human princes every year to please her evil mother, the Sea Queen. You seriously do not want to mess with her. Similar to my like of Alice in The Hazel Wood, Lira is a character that I did not expect to like but did. She's charismatic, vicious and a cinnamon bun all rolled into one. She's a super badass female who can kick butt in the sea or land and has some awesome sassy dialogue that made me laugh.
Another awesome character to mention is Prince Elian. My opinion of him at first was that he would become the ultimate loving dovey prince, falling in love with Lira almost immediately. Alas, this did not happen which I was incredible happy about. Elian is in no way our normal kind of prince, his heart belongs with the sea and on board his ship – the Saad. If anything he is more pirate than prince. Elian keeps his cards close to his chest, especially when he first meets Lira. Oh, he really does not trust her at all.
The world building in this book is strong as Alexandra develops the world beautifully with her captivating words. I could imagine myself swimming in the ocean with Lira, hunting out our next victim while swaying on board the Saad – perhaps having  a swig of rum to calm my nerves before the next hunt.
To Kill a Kingdom never felt boring, this story is one massive adventure that leaves you wanting to know more. It's a page turner without a doubt and a book you won't want to miss out on.
5/5