Hey everyone! I love reading through other people's tags – it's a great way to get to know the person you are following and fun to read!
So *drumroll* I thought it was about time that I did my own one. Anyone can do this tag, just ping me back so I can see your answers! Enjoy bookworms.
---
1. What is your reading goal for this year?
I'm aiming to read 80 books this year (yikes!) I read 76 last year so I think it's possible…
2.

Y

ou're stuck on an island, who knows when you'll be saved, what ONE book do you bring with you?
Ah blimey. It will have to be Harry Potter and the Order of the Phoenix. It's my favourite book in the series (and the longest) so I would be alright – for a while!
3. Can you read for a long period of time or do you need to take breaks?

I used to read for hours and hours on end but I would always get the worse headaches. So, unfortunately, I have to take breaks which is super sad.
4. If you could live in any bookish universe, where would you live and why?
EASY. Harry Potter. I'm still waiting for my Hogwarts letter…
5. Paperbacks, Hardbacks or eBooks?
I'm definitely more of Paperback or Hardback kinda gal but before jetting off to the US for 9 weeks I did make the decision to get a tablet. I love the feel of a physical book but having ebooks was so much easier.
6. A series you didn't think you'd like but you fell in love with?

I didn't love 'A Court of Thorns and Roses'  as I had some issues with it. I went into 'A Court of Mist and Fury' a tad sceptical but it ended up capturing my heart instead! I've ordered 'A Court of Frost and Starlight' and can't wait to devour it!!
7. Bookmark or folding pages?
I use to fold pages but my mum, who is a massive bookworm, gave me a telling off for doing it! LOL. So I have used bookmarks since. I don't always use a traditional bookmark – I used a plane ticket for a number of years.
8. If you could hang out with your favourite character who would it be?
I honestly have no idea who my favourite bookish character is – there's so many!! I think I would love to hang out with Kenji from the 'Shatter Me' series. He is so adorable and always makes me laugh, so I think he would be fun to hang out with.
9. A popular book that everyone likes but you don't.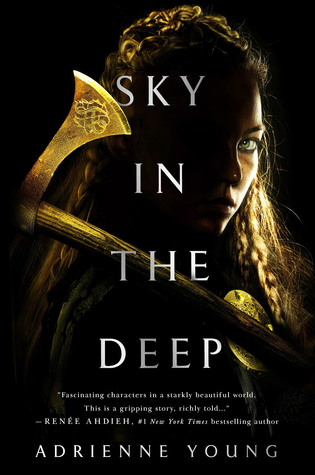 'Sky In the Deep.' I really liked the main character but the overall plot failed to hook me and I found myself so unbelievable bored most of the time.

10. The best book you have read so far this year is…?
A few months back I was approved on NetGalley for 'Sadie' by Courtney Summers. IT WAS AMAZING. The book comes out 4th September by Wednesday Books. I cannot stress how much you guys need to read this book. You will not regret it – I'm sure!
I hope you enjoyed my book tag and I can't wait to see your answers!