I would like to thank Orchard Books and C. G. Drews for sending me this ARC via NetGalley in exchange for my honest review.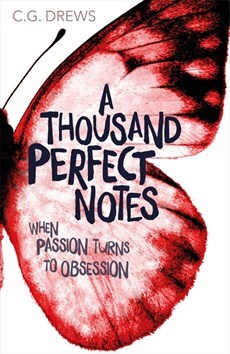 An emotionally charged story of music, abuse and, ultimately, hope.

Beck hates his life. He hates his violent mother. He hates his home. Most of all, he hates the piano that his mother forces him to play hour after hour, day after day. He will never play as she did before illness ended her career and left her bitter and broken. But Beck is too scared to stand up to his mother, and tell her his true passion, which is composing his own music – because the least suggestion of rebellion on his part ends in violence.

When Beck meets August, a girl full of life, energy and laughter, love begins to awaken within him and he glimpses a way to escape his painful existence. But dare he reach for it?
Trigger Warning: Child Abuse
I saw A Thousand Perfect Notes plastered everywhere on Bookstagram. Everyone was excited about this book and it seemed to be the book to read. Luckily I was accepted for an eBook copy on NetGalley.
Unfortunately, this book didn't meet my expectations.
It's quite hard to pinpoint what exactly I didn't like. Okay, I definitely did not like the child abuse. It made my heart break into a million pieces as well as give me a horrible feeling in my stomach.
So let me try and discuss the few things that I did not like.
I had no idea where the story was set. Not a clue. At first, I thought it was in England. About halfway through the book $ was mentioned so I assumed we were in America. It turns out, after reading some reviews on Goodreads, the story was set in Australia!? I really had no idea and it massively annoyed me that I didn't have a clue where the story was set.
There felt like there was a massive lack of worldbuilding which is what I really needed.
I didn't like the character August. AT ALL. Her entrance into the story felt so forced it made my head hurt. I get what her purpose was for but it didn't feel right and was way too obvious.
The abuse that took place with Beck and his little sister, Joey was hard to read. But it felt over dramatic. The book went straight into the abuse. I'm not saying that there should have been build up for "dramatic effect" but at least to develop the story further instead of diving straight into it.
I'm not sure whether I liked the writing, I needed more development in the story and
not
sentences
like
this.
So another unpopular opinion on a very popular book, but sorry guys I just couldn't get into it. I would definitely read the next book by C. G. Drews to see if her writing style develops. For now, it was a massive NO from me.
2/5