I would like to thank Haper Collins Children's Books and Sarah Henning for sending me this ARC via NetGalley in exchange for my honest review.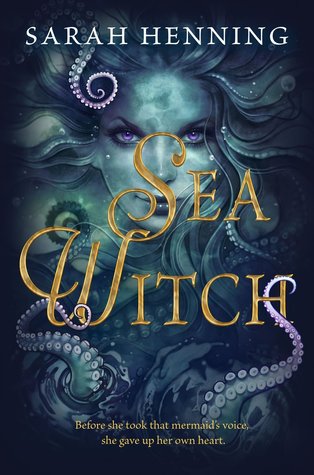 Everyone knows what happens in the end.
A mermaid, a prince, a true love's kiss.
But before that young siren's tale, there were three friends.
One feared, one royal, and one already dead.

~~~~~~~~~~

Ever since her best friend, Anna, drowned, Evie has been an outcast in her small fishing town. A freak. A curse. A witch.

A girl with an uncanny resemblance to Anna appears offshore and, though the girl denies it, Evie is convinced that her best friend actually survived. That her own magic wasn't so powerless after all. And, as the two girls catch the eyes—and hearts—of two charming princes, Evie believes that she might finally have a chance at her own happily ever after.

But her new friend has secrets of her own. She can't stay in Havnestad, or on two legs, unless Evie finds a way to help her. Now Evie will do anything to save her friend's humanity, along with her prince's heart—harnessing the power of her magic, her ocean, and her love until she discovers, too late, the truth of her bargain.

The rise of Hans Christian Andersen's iconic villainess is a heart-wrenching story of friendship, betrayal, and a girl pushed beyond her limits—to become a monster.
I might as well get right to it. This book disappointed me massively.
I really tried to enjoy The Sea Witch but I found it incredibly painful to read from start to finish.
What I thought was going to be an action based, romance filled retelling was one great massive yawn. No joke, I think I fell asleep while reading this.
My main issue with this book was the pacing of the story. It was way to slow for my liking as nothing interesting or exciting happened till the very end of the book. A BIG THUMBS DOWN FOR ME. The book felt very character driven focus. Not a problem as long as the plot is moving forward but in this case, the plot was left at a standstill. It was definitely one of those books that I had to force myself to pick back up.
None of the characters stood out to me. I found them all very bland for my liking. Though most of the characters were given a good backstory, their personalities were boring and made it difficult to like any of them.
I really had hope that I was going to enjoy this book but unfortunately, it was one massive flop for me!
2/5